Solar lights are gradually leading the green trend in the lighting industry. Undoubtedly, it has provided an efficient, environmentally friendly, cost-effective solution…. Most people are only interested in lamp power, which panel? What kind of led chip? But few people are interested in the equally important part when choosing a solar light that is the lamp's battery. Why do solar lights need batteries? What kind of batteries for solar lights? Today, BSLG will provide you with information on the most commonly used rechargeable batteries for solar lights.
Types of rechargeable batteries used for solar lights
The batteries for the rechargeable solar lights are at the core of the great invention, as they can power the lights to work for a long time. Because there are many types of batteries on the market with many types and origins and different capacities, consumers may have trouble buying the wrong type of battery that will affect the light quality and age lamp life.
There are three main types of batteries commonly used in solar lights: NICD, NIMH, and LITHIUM-ION.
Before going into the details of each battery type, you should know the battery specifications:
Battery type (Li-ion, Ni-Cd or Ni-MH)
Size (AAA or AA)
Capacity (mAh)
Voltage (V)
Current (I)
1. NICD PIN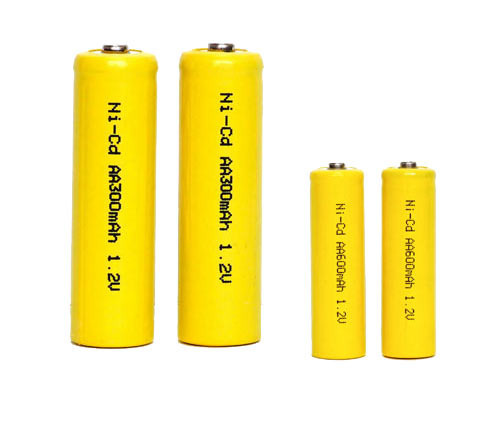 Mobile use battery. NiCd (Nickel-Cadmium) or nickel-cadmium battery combines cadmium and nickel, alkali and separator. Batteries come in different capacities and sizes, from AAA to D. Originally, NiCd batteries were made to replace the old non-rechargeable alkaline batteries, so they can work well in devices. The voltage of NiCd battery measured is 1.2V.
Unlike lead-acid batteries, NiCd batteries can keep their voltage steady at 1.2V during discharge, even when they are nearing exhaustion. Additionally, NiCd batteries are known for their low internal resistance, which means they can discharge and recharge in a brief period, only about 1-2 hours. At the same time, they only need to be replaced after about 400-500 charges. Because of their low production cost, they are often used in low-end portable lighting and other lighting types.
NiCd batteries tend to self-discharge about 10% of their energy per month under normal temperature conditions when not in use. If the ambient temperature is increased, that discharge rate can be doubled. Therefore, users should fully discharge the battery before storing it in a cool place.
2. NIMH PIN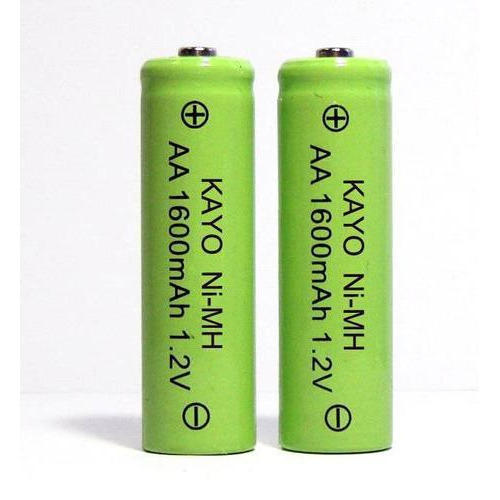 NiMH (Nickel-Metal Hydride), also known as a nickel-metal hydride, is a rechargeable battery. It has much in common with NiCd batteries regarding form factor and components. But instead of using toxic cadmium, NiMH contains a hydrogen-absorbing alloy (the bonds) that act as a cathode or anode. With this construction, NiMH batteries boast of being eco-friendly and recyclable.
What's more, they have twice the energy density of NiCd batteries. That means they can store more energy in smaller and lighter battery size. Namely, a NiMH battery can remain stable at 1.2V for almost 70-80% of its total discharge time. More power equates to a longer operating time on a single charge in solar floodlights.
The lifespan of these batteries varies with their capacity, but in general it ranges from 500 cycles for high capacity batteries and to close to 3000 charge cycles for low capacity batteries. They can be quickly charged within an hour. NiMH batteries allow solar panels to recharge at the same rate at different times without harming battery capacity. Due to their long discharge time, NiMH batteries are widely used in all kinds of solar floodlights, from cheap to high-end. But they are mainly found in low and mid-range lighting, for example front yard floodlight, garden light, security light, decorative light, indoor light, etc.
However, it has the disadvantage of self-discharge 3 times higher than NiCd batteries. If the battery is fully charged and left on the shelf for a month, the battery will lose a third of its energy, which can change with temperature (as temperature increases, energy loss increases).
3. LITHIUM-ION BATTERY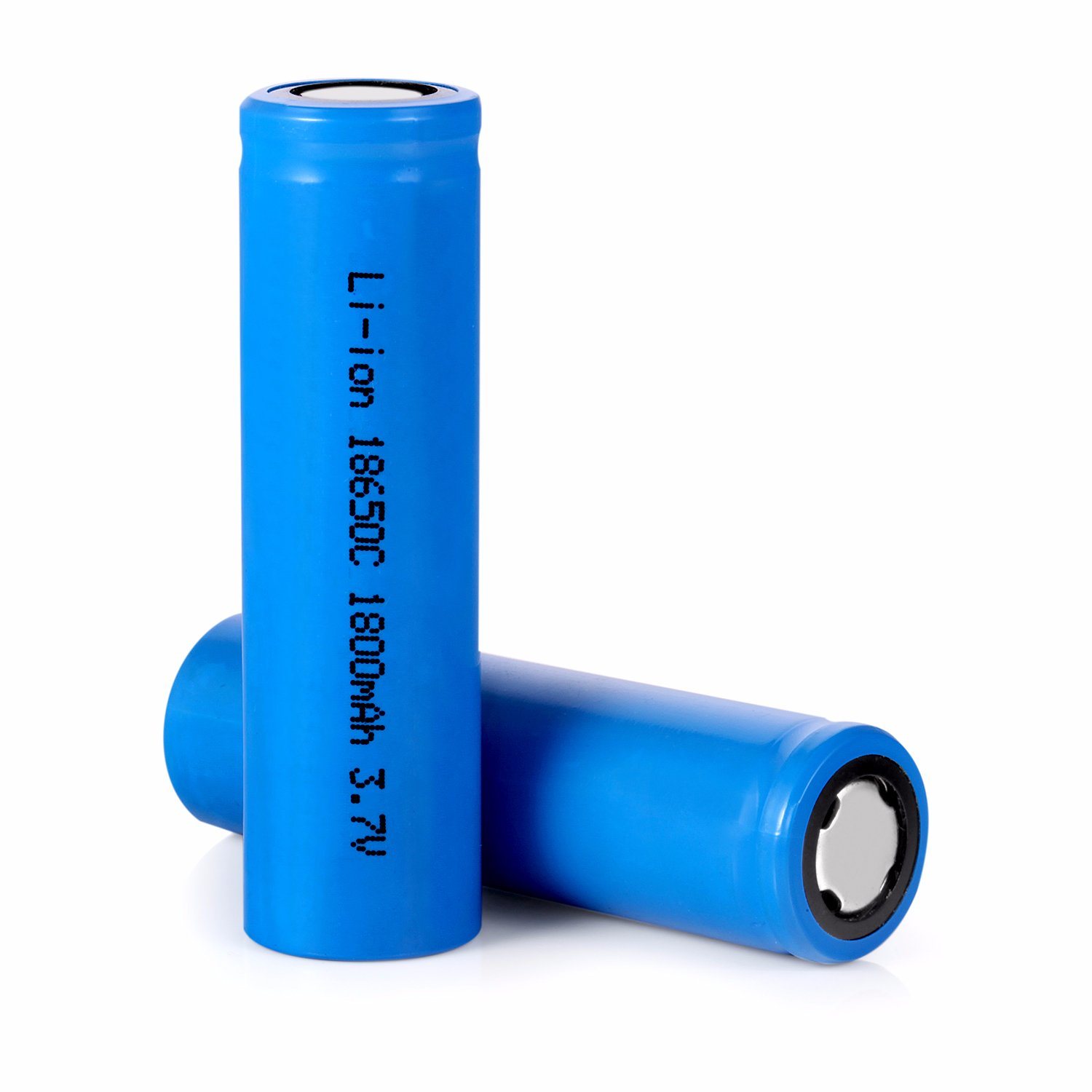 Known as Li-ion, Lithium-ion batteries have just entered the solar rechargeable battery market a short time ago. Their fast charging speeds and weight savings make them suitable for use in mobile devices, but not so much in sunlight applications, especially mid-range solar lights.
Like NiMH, lithium-ion batteries are environmentally friendly, without toxic materials such as cadmium and mercury. They come in various sizes and shapes with voltages ranging from 3.2V to 3.8V. They can be as small as coin-shaped cells and as large as the batteries found in electric vehicles. Overall, they are much lighter and more compact than other rechargeable batteries while still providing a comparable capacity.
Their charging and self-discharge rates vary widely between different types of lithium-ion batteries. But in general, it takes about an hour to charge fully, and the maximum self-discharge rate is 8% per month. A lithium-ion battery can be used for 500-2000 charges for the average lifespan. In particular, the Li-phosphate sub-type is the most used battery for solar lighting, which means its life cycle reaches over 2000 cycles and it can withstand tests at both low and low temperatures high.
However, high production costs and low-temperature resistance may make customers hesitant to purchase Lithium-ion batteries.
CONCLUDE
In short, corresponding batteries depend on the size and energy requirements of each type of solar light. So remember to use suitable rechargeable batteries for your solar lights to get the most out of their performance.
It is also essential to replace the batteries when they have reached the end of their life and remove them from the lamp when you intend to store the light unused for a long time. And be sure to keep the battery away from metal objects in a cool and dry area to reduce the risk of electric shock. Once you have a good understanding of each battery type and its maintenance tips, you can enjoy the significant applications of solar lights for many years.
View more: